Verizon Media Platform Update:
Improve OTT security, self-manage certificates, and bolster streaming experiences.
Click on the links below for the latest news, developments, features, and enhancements to the Verizon Media Platform. If you have any additional questions, fill out the form on the right.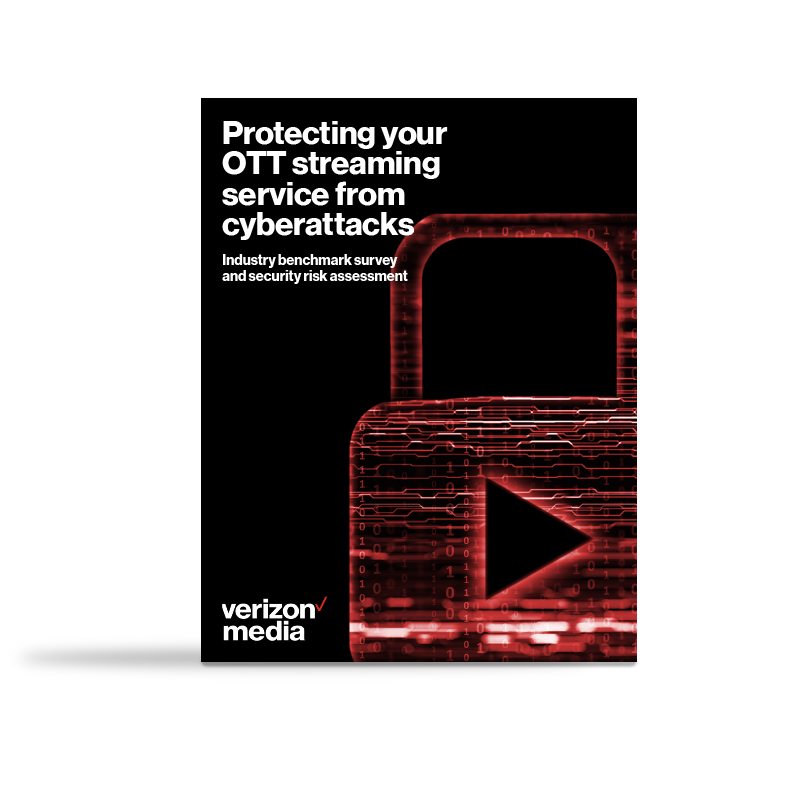 New OTT security report
Streaming services experienced exceptional growth last year. With this success comes a new risk—protecting an expanded treasure chest of premium content and user data. Learn what 200 OTT
security professionals feel are the most pressing security threats and what they've done to protect their streaming services. You'll also learn about emerging security technologies that can protect your business from cybercriminals.

I agree with the privacy policy and provide my consent to receive marketing communications from Verizon Media.
New tech article: How to protect your OTT service from a credential stuffing attack
Credential stuffing leverages bots to probe for username/password reuse across the web to steal user and financial data. Are you prepared to stop them? Our latest tech article explains the three levels of bot detection and mitigation needed to mount an effective credential stuffing solution to help protect your users and OTT system.

New tutorial video: Certificate Provisioning System
In our ongoing efforts to empower our customers to be more self-sufficient and agile, we recently introduced a new automated Certificate Provisioning System. This powerful new tool enables you to self-manage your certificates and DIY your certificate deployment on our global network within minutes. Take advantage of this new capability now.

Channel Scheduler: A new way to increase viewer engagement and maximize content value
We are excited to announce the general availability of our new Channel Scheduler. Accessed via our Universal Control Center, Channel Scheduler enables publishers to create a linear programming schedule by easily adding assets from their VOD library, a live feed, or a live event to a timeline to create ad-supported linear programming experiences. This capability eliminates the need for expensive broadcast playout technologies to curate and develop new channels for audiences. It's now easier than ever to keep viewers engaged and maximize the value of your content library.
Syndication publishing makes it easy to reach global audiences via social media
Syndication publishing has been updated to support publishing live linear streams to MVPD and virtual MVPD platforms via support of the Zixi and HLS protocols. This is in addition to supporting RTMP to publish to all of the most popular social media platforms, including Facebook, Twitter, YouTube and Twitch, giving you the power to reach significant audiences from a single simplified workflow.
Enhancements to VOD playback
We have added two enhancements to VOD playback use cases enabling publishers to create virtual linear playlists from their VOD library: Virtual linear playlists and Smartstart™.
Virtual linear playlists playback like a live stream on downstream devices like Roku, ensuring viewers aren't disrupted with "continue watching" prompts. Smartstart functionality enables publishers to playback a single, long-form VOD asset as a linear stream, which allows us to fetch the ads on demand versus fetching all ads upfront as you would in a traditional VOD publishing workflow. Smartstart VOD lowers startup times on downstream devices, reduces the risk of ad timeouts, and increases monetization opportunities.
New Slicer tab helps you manage streaming demand
We've added a new Slicer tab in our Universal Control Center, which enables administrators to define Slicer failover groups. This enhancement to Slicer allows for both Hot/Warm and Hot/Hot failover scenarios that can be tuned to meet your requirements, ensuring a highly available and fault-tolerant streaming service.
Look for additional details about these enhancements in upcoming Digital Insights.